Below is an **UPDATED** schedule for Week 1 of Spring Sports! Please contact Coach if you have any questions.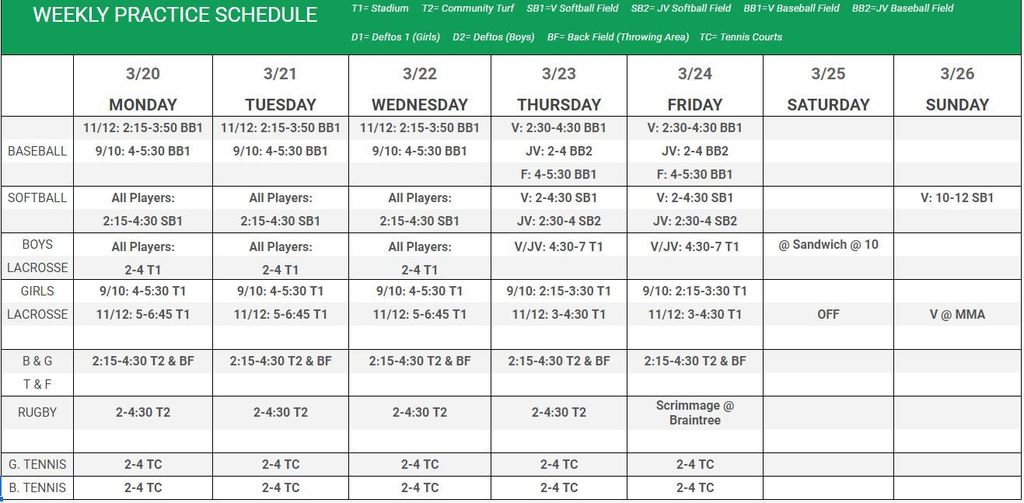 Congratulations to the Senior Field Hockey players and their families on Senior Night.
Good luck to our Volleyball Seniors and Thank You!!
MIAA Power Rankings (10/18/22): Football- #7 D2 Boys Soccer- #14 D1 Girls Soccer- #15 D1 Field Hockey- #31 D1 Volleyball- #39 D1
https://t.co/v2R9IxgyPV
Congratulations to the MHS Golf Team who completed their season today by competing in the D1 Eastern Mass. Golf Sectional today. Nate O'Brien (80), JD Ambrose (82) and Mike Scully (82) led the way for Marshfield. Also competing were Shea Brearley, Jackson Faith and Jack Keane.
Congratulations to the Varsity Cheerleaders who finished 3rd in the Milford Cheer Invitational in their Division and the JV Squad who finished 1st in their Division. Great job by both Squads!!
Final Scores for 10/14: Volleyball sweeps Silver Lake 3-0, Field Hockey defeats Middleborough 2-1, Football defeats Whitman Hanson 34-13, Good day for the Rams!
Marshfield Boys Soccer defeats Hingham 1-0 in an excellent high school soccer game. Eamon Hume played great in net for the Rams with many big stops along the way for the shutout.

Exciting monring at MPSD welcoming back educators and introducing our new employees!